Drew Offers Seamless Transition to Honors Students
Drew signs agreement with RVCC, with more to come.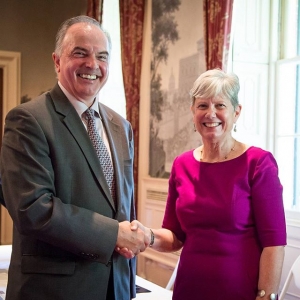 August 2015 – Calling it "a historic first," Drew President MaryAnn Baenninger has signed an agreement that provides a seamless transition for honors students from Raritan Valley Community College to get baccalaureate degrees at Drew.
The agreement, which Baenninger and RVCC President Michael J. McDonough signed Aug. 13 at Mead Hall, enables RVCC honors students to take up to two classes at Drew while still attending community college and makes them eligible for scholarships based on their grade point averages.
"This program has the unique design of capturing that intent of getting their four-year degree affordably," Baenninger said.
She added that RVCC would benefit from Drew's New York semesters, close mentoring relationships with professors and experiential learning opportunities.
President McDonough added that the agreement would eliminate haggling on credits and offer opportunities for tuition assistance for RVCC honors students. "I think this is a remarkable opportunity for our students," he said. "It offers the opportunity for authentic engagement."
Within the next year, Drew expects to expand this program to three or four other community colleges in the region, as Baenninger noted in a recent interview with NJTV News.
While many colleges and universities have articulation agreements, the connection between RVCC and Drew is much more than that. Robert Massa, Drew's senior vice president for enrollment, said liberal arts universities such as Drew are often underrepresented in transfer pathway programs with community colleges. He said RVCC was deliberately chosen as a partner by Drew because it is "one of the top community colleges, not only in the state, but in the region."
RVCC students who graduate with at least four honors-designated classes may seamlessly transfer to Drew as juniors as long as they fulfill certain requirements. This includes graduating from Raritan Valley with a grade point average of at least 3.25.
RVCC graduates will be eligible for annual scholarships from Drew based on their grade point averages. RVCC honors students who graduate with a GPA of 3.75 or higher will receive a $25,000 Honors Scholarship; honors students with a GPA of 3.5 or higher will receive a $20,000 annual Presidential Scholarship; and a Deans Scholarship of $15,000 will be awarded to honors students achieving a 3.25 GPA or higher. Students who are members of the Phi Theta Kappa international honor society will receive an additional $2,500 scholarship per year.